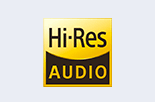 Hi-Res multi-channel audio
In addition to 2-channel sound with the left and right speakers, 5.1-channel sound has a centre speaker, left/right surround speakers, and a subwoofer. So DVD or Blu-ray movie soundtracks will give you the sensation of sound moving all around, letting you fully immerse in the viewing experience. The AV receiver lets you combine existing or new speakers of your choice. With versatile inputs, you can enjoy not only films, but also sports programmes and music content in overwhelming reality.
* NAS capable of DSD streaming required.


The product with this logo is conformed to Hi-Res Audio standard defined by Japan Audio Society. This logo is used under license from Japan Audio Society.