Voice Guidance
Voice guidance for your route is available in English with options for selecting accent from Indian, UK or US english

ipod/iphone compatible
Enjoy non stop music on the drive. Connect your iPod or iPhone without hassle

Multi-color LED Display
Select among five (Blue/Red/Amber/Green/White) colors for the display and 112 different colors to match headunit's illumination with the dash.
15.7 cm Wide
Enjoy navigation, DVD/USB videos and JPEG images on a smart 15.7 cm wide display screen

Best-in-class Audio Video
Time alignment and Auto EQ, 13 BAnd GEQ & Superior video playbility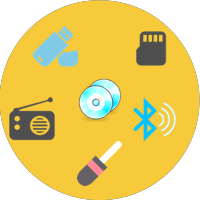 CD-DVD/USB /Radio/AUX/ iphone/BT
Play music from multiple sources

Auto EQ
Auto-EQ analyzes the vehicle acoustics and provide you with suitable EQ for your car.

Todoroki EQ
Specially designed for Indian sound preference, Todoroki EQ realizes powerful bass and clear sound.

Dual USB
More connectivity adds more convenience and utility. You can listen to music from a USB device while charging your smartphone.
3 P/O (Hi-Volt)
Connect amplifier with separate pre-out for Front, Rear and subwoofer channel

WVGA display
Wide Video Graphics Array is a display resolution with the same pixel height as VGA but with more pixel width than VGA