HDMI
Wireless projection for smartphones using select Miracast dongles

Multi-color LED Display
Select among five (Blue/Red/Amber/Green/White) colors for the display and 112 different colors to match headunit's illumination with the dash.

17.8 cm Wide
Enjoy navigation, DVD/USB videos and JPEG images on a smart 17.8 cm wide display screen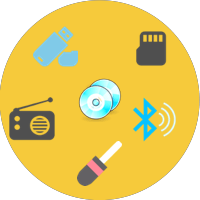 CD-DVD/USB /SD/Radio/ AUX/iphone /BT
Play music from Numerous sources

Auto EQ
Auto-EQ analyzes the vehicle acoustics and provide you with suitable EQ for your car.

Dual USB
More connectivity adds more convenience and utility. You can listen to music from a USB device while charging your smartphone.
3 P/O (Hi-Volt)
Connect amplifier with separate pre-out for Front, Rear and subwoofer channel

WVGA display
Wide Video Graphics Array is a display resolution with the same pixel height as VGA but with more pixel width than VGA