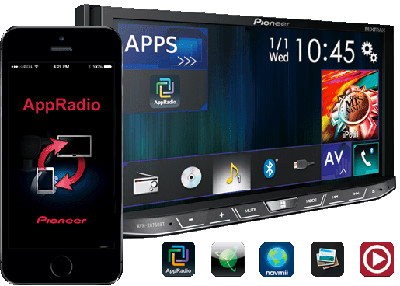 Dear Valued Pioneer Customer;

With the introduction of Apple's new iOS 11 mobile operating system, Pioneer has discovered an incompatibility with AppRadio Mode on certain Pioneer receivers. If you connect an iPhone® or 5th or 6th generation iPod touch® device that has been updated to iOS 11 and launch AppRadio Mode, you will experience a blank screen or other display malfunction that disables AppRadio Mode.

To maintain compatibility with AppRadio Mode, please continue using iOS 10 or older with your iPhone or iPod touch. Pioneer is working to resolve the issue and will update this notice once firmware updates for the receivers are available.
Affected Receiver models include:
AVH-Z1090DVD
AVH-Z2090BT
AVH-Z7050BT
AVH-Z5090BT
AVH-X8890BT
AVH-X599BT
AVH-X399BT
AVH-X1890DVD
AVH-X2890BT
AVH-X5890BT
AVH-X7850BT
AVH-X1790DVD
AVH-X1690DVD
AVH-X4690DVD
AVH-X4690DVD
AVH-X7550BT
AVH-X8690BT
AVH-X8790BT
AVH-X2790BT
AVH-X4690DVD
AVH-X5790BT
AVH-X7750BT