New Delhi, Pioneer India Electronics, the first in-car entertainment systems company to launch Android Auto and Apple CarPlay for Aftermarket in India, today launched its latest touchscreen car stereo AVH-X8890BT as a part of its 2016-17 lineup.
Priced at Rs. 39,990/-, AVH-X8890BT revolutionizes the driver's smartphone experience by bringing both Android Auto (for android phone users) and Apple CarPlay (for iPhone users) into a single car stereo. AVH-X8890BT gives its users the best of both the worlds. Android Auto and Apple CarPlay allow users to access their phones from the stereo's Touchscreen and use apps in a safe way while driving.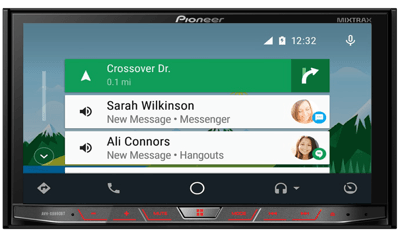 Commenting on the launch, Mr. Gaurav Kulshrestha, Manager - Marketing & Product Planning, Pioneer India Electronics said, "All the features in AVH-X8890BT are designed with one goal at hand — minimizing the use of the phone, and keeping the person safe behind the wheel. The touchscreen interface of AVH-X8890BT is optimized for glance ability and readability while driving. Android Auto organizes required information into simple cards whereas Apple CarPlay features big icons with a plain background for better readability. To ensure safety special emphasis is given to voice commands. With the use of Google talk in Android Auto and Siri in Apple Car Play, users get to use the best-in-class speech technology for controlling everything with voice. Users can attend calls, send and receive messages all through voice commands with the help of the Bluetooth wired mic that comes along with AVH-X8890BT."
With Android Auto, users can access Google Maps, listen to smartphone's music, Manage calls, Listen and reply to messages & WhatsApp. Whereas with Apple CarPlay, users can access Apple Music, Manage calls, messages and listen to Audiobooks and podcasts. The interface of CarPlay & Android Auto is purpose built for driving with simple voice Commands to control the above features.
Various third-party apps are also compatible with Android Auto and Apple CarPlay depending on the region.
Android Auto or Apple CarPlay is devilishly simple to use. One just needs to plugthe phone into the Pioneer's receiver through the phone's charging cable and it's ready to use. For Android Auto one must have the android auto app installed on his android phone whereas CarPlay app is preinstalled on the latest iPhones.
The stereo is also compatible with AppRadio Mode- iPhone/Android. This application gives users the ultimate solution to all their needs during commute by combining the services they want into a single, easy-to-use design. Offline navigation apps like Navmii & Navitel, media, news information and the events calendar are all within reach with its smooth and intuitive interface.
AVH-X8890BT is also loaded with other features like steering wheel control, Dual Zone Audio Video, Bluetooth, 13 Band EQ, Time alignment, HDMI interface, multi-color LED display, Dual USB, and Mixtrax.
Key Specifications:
6.95 inch clear resistive (WVGA) Screen
Full detachable panel
Supported Formats: WMA / MP3 / AAC / WAV / FLAC / Mpeg4 / WMV / H.264 / JPEG / MKV / FLV (all this at certain resolution)
Supported Media: DVD-R/RW, CD-R/RW, DVD Videos, Aux, USB, SD card, FM, Dual Rear USB interface, Android Auto, Apple Car Play, AppRadio Mode from HDMI, Built-in Bluetooth with wired Mic, Advance sound Retriever,13- band EQ, Auto-EQ, RCA Pre-outs- 3 (Front, Rear & Subwoofer), Video out, Rear-view Camera In, LED Backlight.