Dear valued Pioneer customer,
Pioneer is pleased to announce that AVICSYNC is now available for the below models.
AVIC-F60BT , AVIC-F70BT, AVIC-F970BT
Disclaimer: AVICSYNC is currently not supported through smartphones with Android version-6 (Marshmallow), Android version-7 (Nougat) and iOS version 10.0 or above.
What is the AVICSYNC App?

The AVICSYNC App is a dynamic companion app that you can use to connect your iPhone or smartphone to a compatible Pioneer in-car navigation system.
Once linked, the in-car navigation system communicates with your iPhone or smart- phone (Android) to share information such as contacts, navigation history, planned routes, POI favorites, and even where you parked your vehicle.
With the AVICSYNC App, your navigation system can also access Premium connected services such as real-time local search and weather lookup to ensure that you'll have all the information you need to reach your desired destination.
In addition to augmenting your Pioneer in- dash navigation experience, AVICSYNC App also works as a standalone navigation app. This means that you'll always have access to Pioneer's accurate turn-by-turn navigation, even when you're not in your vehicle.
By using AVICSYNC users can access the following Smartphone app functions:
DATA SYNCHRONIZATION - You can use Navigation features while outside of the vehicle and can easily plan and edit your next trip in AVICSYNC from anywhere. Data created in the App will be automatically synchronized when you get into the vehicle. Data synchronization keeps navigation-related data such as planned routes, history, favorites, and saved routes in sync between the smartphone and the receiver, each time they are connected.

---
BACK TO CAR - When the user disconnects the smartphone from head unit the smartphone app records the last coordinates at which it was connected to the receiver as the car was being driven, which is useful in case you forgot where you parked your car. The AvicSync app will help you by navigating you back to the car.(but please remember which level!)
---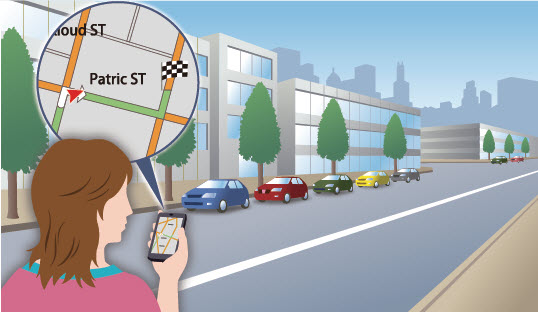 ---
LAST MILE NAVIGATIONS - After disconnecting the smartphone from the navigation receiver, the smartphone app will tell you how to walk to your destination from the car in the pedestrian mode.
---
You can also purchase optional online service package through the in-app shop to expand navigation functionality.

The AVICSYNC-specific aspect of the services is that end users can manage their service subscriptions via the in-app shop on the smartphone application. The services are available in the smartphone application as well as on the head unit. Service subscription licenses are automatically synchronized between the smartphone application and the head unit.
---
Requirements to use AVICSYNC
In order to ensure AVICSYNC will work correctly on your AVIC model, you will need to ensure you download the correct firmware, specific for your AVIC model. You will also need to download the new AVICSYNC app onto your smartphone, available from your local iTunes Store or Google Play Store.
Update your AVIC:
You can download the AVIC firmware, update instructions and the updated user manual directly below:
AVISYNC app manual:  Click here to download the AVISYNC app manual
Firmware upgrade instructions:  Click here to get steps-by-step firmware upgrade instructions
*Important - Please read the instruction carefully before proceeding for the upgrade

You can check if you have a compatible AVIC model by checking the firmware version on your AVIC unit, as described in the firmware update instructions on the above product links