Types of enclosure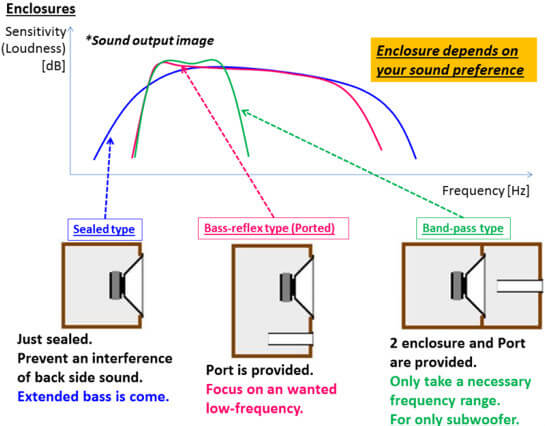 The speaker enclosure (typically, a box) is critical. Any speaker will produce sound in any cabinet, but optimizing the relationship between the speaker and the enclosure is the key to good bass. Shaping the low-end (bass frequencies below 200Hz) is the reason for choosing a particular enclosure type.  Three major types of speaker enclosures are sealed, ported and bass-pass type.
1. Sealed (or closed) enclosures
Here's how a sealed enclosure works. The back of the speaker is completely sealed off. The air inside the enclosure acts as a spring, which helps control the movement of the cone. When the speaker moves out, the pressure inside decreases, when the speaker moves in, the pressure inside increases. It helps to create a better control on the diaphragm leading to more accurate sound.
A sealed cabinet produces a deep base and more accurate sound. Sealed cabinets are much easier to design and build than ported enclosures and are typically smaller in size.
2. Ported (or bass reflex) enclosures
In the front of this enclosure is a hole (port) that equalizes pressure between the inside and outside of the speaker. When the diaphragm moves back into the speaker, it increases the internal pressure, which is funnelled out through the front port of the speaker. This action augments the sound waves traveling from the speaker and increases the efficiency tremendously.
A ported cabinet produces punchier sound. It is large in size and complex to design when compared to sealed enclosures.
3. Band-pass enclosures
Band-pass boxes are a special type of ported box designed for maximum slam. The woofer is mounted inside a dual-chambered box (one chamber sealed, the other ported), with the sound waves emerging from the ported side. The sound that comes out of the port is extra loud within a narrow frequency range. Because bandpass boxes are super-efficient within that range, they tend to boom. These enclosures are used for subwoofers.