Your luxurious car experience is incomplete without this luxurious car infotainment system!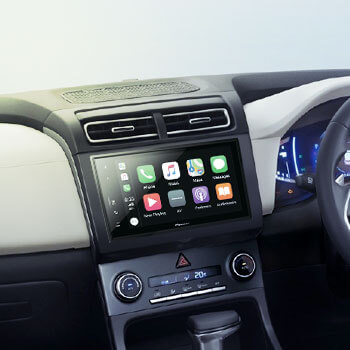 The world of technology is an ever-changing, ever-evolving dimension. Those who keep up with it, make their lives more comfortable and hassle-free, and those who don't, end up getting left behind. But since you're going to spend your hard-earned money on a product, you deserve the bang for your buck. It's only natural for a person to want something that wouldn't get outdated in a couple of months.
So what is the solution then? How can you improve the longevity of the devices you're purchasing in this age of obsolescence? Well, one way is to get something that is ahead of its time in terms of technological advancement, and this is exactly what Pioneer endeavors to deliver. Devices that set the trend and bring a revolution in the market! One such device that can paint your car with the colors of future is Pioneer's DMH-ZS8290BT Multimedia AV Receiver. Let us learn about this masterpiece of ingenuity and innovation in detail.
8-inch Capacitive Touch Screen Display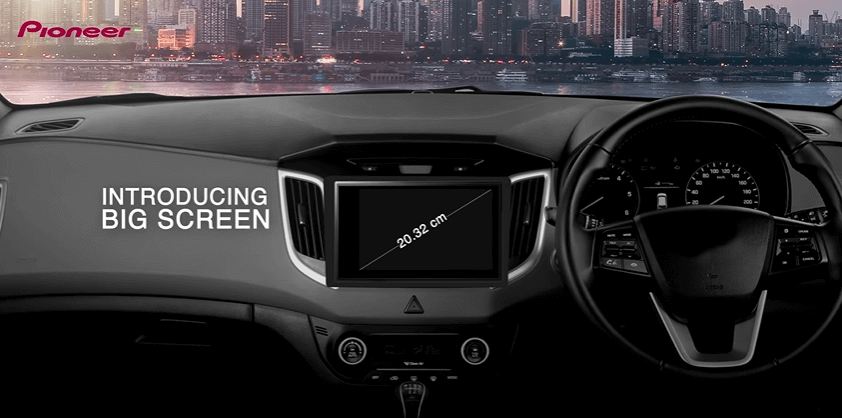 One thing everyone dislikes is having to squint their eyes to see what's on their head unit. The newly designed, dynamic large 8" display solves this issue, and provides drivers with a large, legible, and luxurious viewing experience. Moreover, the capacitive touch panel boasts an aesthetic and crisp design and ensures enhanced visibility. This display is a perfect amalgamation of sleek design, high picture quality, and smartphone-like touch screen responsiveness.
Android Auto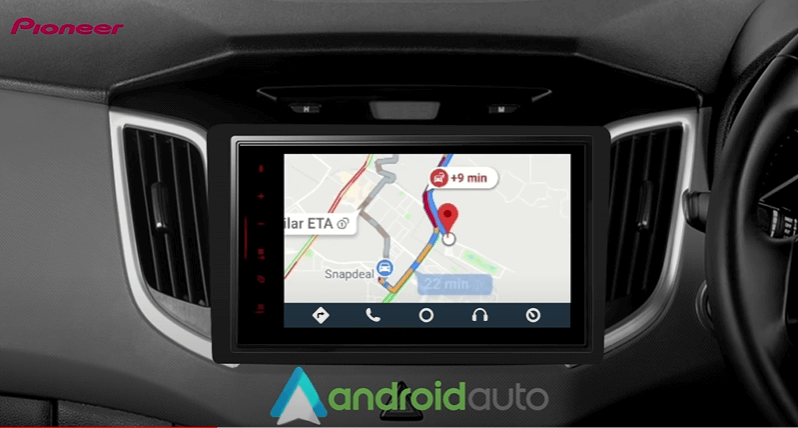 In a country like ours, where most of the population uses Android phones, Android auto comes as a blessing for the people who spend a lot of time in their cars. With the help of this wonderful software, Pioneer's DMH-ZS8290BT allows you to use important smartphone apps like Google Maps, and WhatsApp among others. The user experience is further enhanced by a large display and a fast & responsive touchscreen. You can also use the included external microphone and car speakers with Google's speech technology, and control everything with your voice for a faster, easier and safer experience. The built-in equalizer and subwoofer controls as well as the additional sound quality adjustment options provide an incredibly unique driving experience.
Apple CarPlay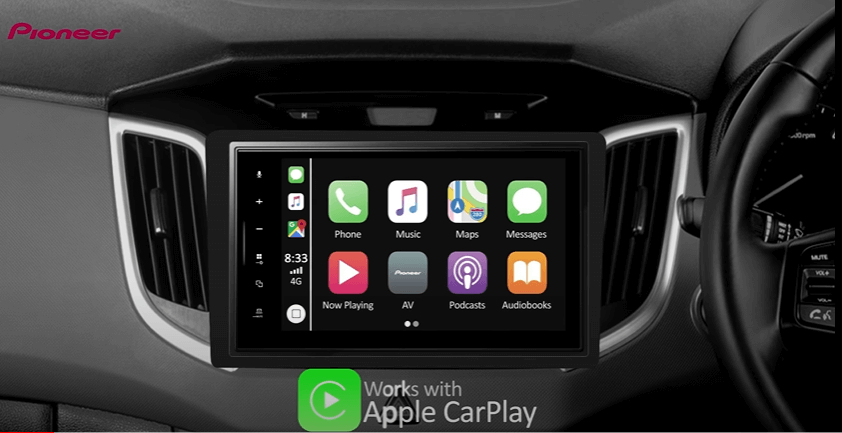 The incredible head unit receiver also comes with built-in Apple CarPlay – which has been causing a lot of buzz these days. It is a smarter, safer way to use your iPhone while you drive. With the help of CarPlay, you can use your mobile apps, make calls, and enjoy a boatload of entertainment with either voice commands or touch. CarPlay features Siri voice control and has been designed keeping in mind the different driving scenarios. Furthermore, the different apps have also been revamped to suit the car conditions; this allows you to manage your car infotainment while keeping your concentration on the road. Apple CarPlay isn't called the "ultimate co-pilot" for no reason.
Parking Assist
With the parking spots in public places getting more and more cramped with time, having a parking assist feature is essential to save your precious car from getting chipped and dented. When a driver reverses a car into a parking space, the new AV receiver shows back camera vision with guide lines to assist parking.
WebLink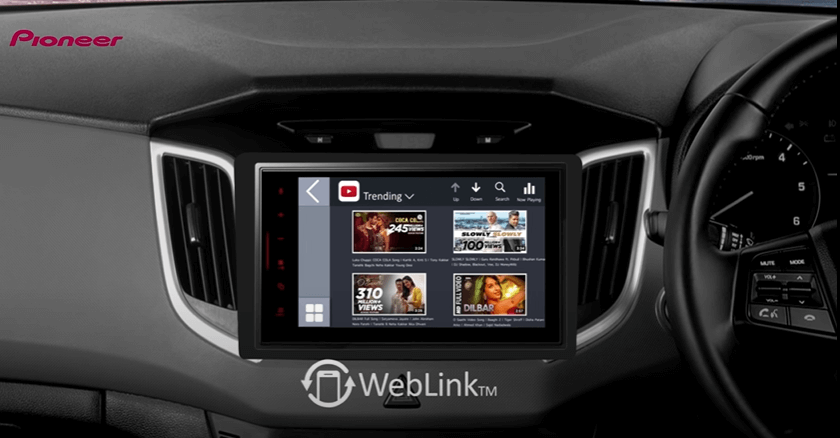 WebLink allows you to enjoy personalized music, videos and other compatible apps like Youtube, powered by your phone. It provides a rich experience to in-vehicle infotainment systems.
Full HD Video via USB
The new DMH-ZS8920BT (in fact, all the new Z-series AV receivers) can play full HD (1080P) videos from files encoded in a wide range of digital formats, stored on your easy-to-connect USB devices.
Superior Audio Tuning
Gone are the days of low-quality audio files; a new age of HD audio is emerging, and as the flagbearer of innovation in improving the sound quality in car stereos, Pioneer has bestowed this car multimedia receiver with 'FLAC file' playback capability at up to 48 kHz/24 bit high-resolution CD-quality audio playback. It is also loaded with audio settings to enhance your music listening experience: including a 13-band EQ with slope adjustments, time alignment, three-way network mode, auto EQ, Pioneer's proprietary Sound Retriever AIR, and high voltage pre-outs.
Easy and hassle-free Smartphone Connection
This new Pioneer AV receiver automatically and immediately detects and connect to your iPhone or Android device, without making you go through a complicated, time-consuming setup routine. With this hassle-free smartphone connection, you can save yourself precious seconds and get straight to using your smartphone via the receiver.
New Circuit Board for a superior sound quality
Delivering the best possible sound quality has always been one of the prime motives of Pioneer, and with the newly redesigned circuit board, the already boombastic, crystal clear sound quality has been further improved. The circuit board is comprehensively redesigned, incorporating low impedance parts, three-terminal capacitor, and resin electrode capacitor. The result is drastically less audio signal noise than conventional circuit boards. Less noise, more music!
Other miscellaneous features
Auto Time Alignment: Auto adjusts speaker output timing, so that sound from all speakers reaches the driver's ears in perfect sync.
Advanced Sound Retriever: It improves the sound quality of compressed media files like MP3, WMA files by enhancing high frequencies.
High Speed Charging:The head unit is capable of providing up to 1.5 amperes of electric current that allows you to charge your smartphone quickly.
Todoroki EQ:Specially designed for Indian sound preference, Todoroki EQ realizes powerful bass and clear sound.
Bluetooth:To facilitate hands-free calling & audio streaming.
Rear Camera Compatible:Rear Camera is a useful accessory for hassle free parking.
HDD support:DMH-ZS8920BT along with other Pioneer Z-series players, can connect to a wider range of convenient media devices, such as hard drives, for non-stop entertainment.
The car-stereo market is always in a state of flux and new technological wonders are being dropped every now and then, but if you equip your car something like Pioneer's dynamic DMH-ZS8920BT, you can have a companion that will last you a long time while making your driving experience safe, smooth and seamless.