AppRadioLIVE is here to simplify your drive by combining the information you need during your commute into a single, easyto-use interface. Maps, media, news information, and your events calendar are within reach with a smooth and intuitive interface. Take your drive to the next level with AppRadioLIVE.
Key features:
Maps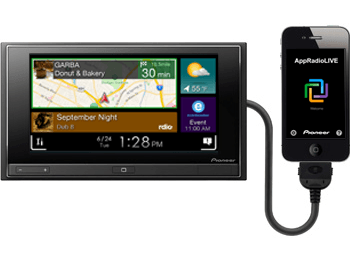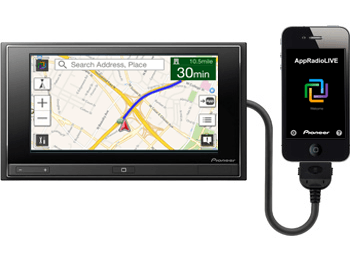 - Traffic Flow and Incidents provided by INRIX®*
- Find restaurants, gas stations, parking and more provided by Yelp®*
- Discover concerts and events near your location with the help of eventseeker®*
- Get an ETA to your Home or Work from your current location
Media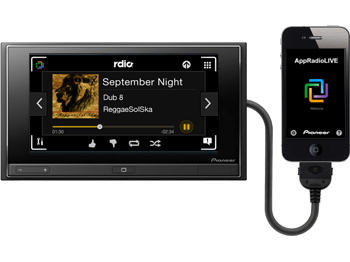 - Play stored music directly from your iPhone / iPod including podcasts and audiobooks
- Access over 25 millions songs from your Rdio®* account
- Access over 25,000+ radio shows and podcasts from your Stitcher®* account
- Listen to hundreds of Internet radio streams from across the globe
News Information
- Stay up to date on the latest news with the help of Feedly®* and text-to-speech technology
- Check the weather for your current location, home,work or destination
Calendar Events
- Stay organized by accessing your iPhone's calendar and Facebook®* events in a single, simple interface.
- Learn about nearby concerts, sporting events and more with eventseeker®*, and easily add those events to your calendar.
Create a Pioneer AppRadioLIVE account in order to sync compatible features such as Feedly, Rdio, and Stitcher.
*Available content providers may vary by country.
Compatible Apple products:
iPhone 6 Plus
iPhone 6
iPhone 5s
iPhone 5c
iPhone 5
iPhone 4s
iPhone 4
iPod touch 5th gen**
**Requires internet connectivity
***Compatible only with Pioneer AppRadio Mode products***